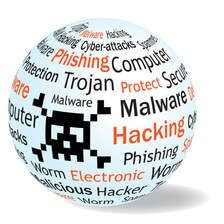 Date published: 4 December 2017
Spam, Scam, thank you ma'am
We are starting to see an increase in malicious emails being sent, under the guise of "Outstanding Invoices".  At face value, these appear to be sent from legitimate accounting software providers including Xero, MYOB, QBO.

These emails are nothing more than an attempt to get you to download malicious code so that hackers can get into your computers and computer networks, and screw up your day, by either stealing critical data (ie: banking logins, etc), locking your data (ie: crypto locker) or undertaking identity theft.

The emails appear legitimate.  They appear exactly the same as other emails you may receive from legitimate suppliers you have done business with.  They are getting more sophisticated, and are using email marketing tools, which can start to mask some of the "sent from" addresses.

What can you do to stay safe?
Ensure that you have the most up to date anti virus installed on your PC/network
Enable 2 Factor Authentication (2FA) on any access credentials where available.  2FA adds an additional layer of security, and requires multi-factor authentication (think banking tokens, or SMS sent to mobile devices)
Educate your staff to not open any emails that they are not expecting.
Always pause that extra breath before clicking through a link in an email, particularly if it is not from a contact you would have been expecting it from, or is addressed in a very generic way.
Never, never never click through any links requesting you to enter account numbers or passwords - banks and other institutions will never ask you to do this via email.
One giveaway that it may not be legitimate, is if you receive the error message about "problems with how this message is displayed, and that Outlook as prevented automatic download of some pictures in this message"
If in doubt about the legitimacy, phone the vendor - don't call the number on the email, but Google their actual business details and use the contact details you find online - the business may not even realise that their name is being used in scam/malicious email campaigns.
Report any suspicious emails to Acorn - Australian Cyber Criminal Online Network
Remain vigilant!
​Here are some examples of emails we have recently seen that are malicious - we will continue to add images as we see more come through, so check back regularly.
** Note: It turns out that the email from @conkar.com.au is not in fact a scam - we keep receiving these, so dug further and finally (through a long and circuitous path) found out who the business was that it actually related to.  Turns out we have been receiving emails from the company on behalf of a client that last used their business >5 years ago, and for some reason, our email address had been linked to their account.  We spoke directly to the accounts department of the business, and suggested that if they were sending emails out of their accounting software, that they really need far clearer details about: 1) the correct name of the business and 2) contact details of the business.  While we do not recommend calling the phone numbers included in emails that we may think could be spam, having that level of detail will at least allow you to search on line and validate the authenticity of the correspondence.