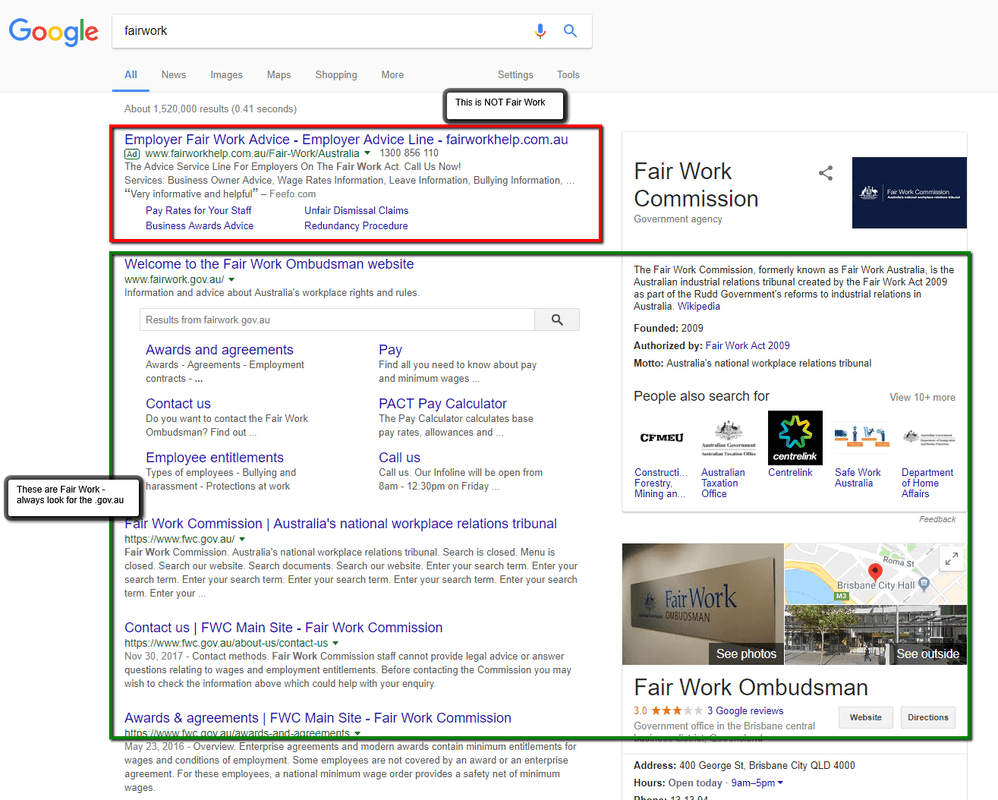 Date published: 8 January 2018
Fair Work or not Fair Work... that is the question!
We are regularly hearing stories of businesses that have been after HR and employment advice, and have done (or so they thought) the right thing in googling Fair Work, and going to the horses mouth for advice, only to find that they are being asked to pay for the "Fair Work" advice.

Let's get one thing straight... right from the start... Fair Work DO NOT charge for advice - they are a government agency, and their sole responsibility is for the provision of information and advice about your workplace rights and obligations, both as an employer and an employee.

Fair Work have a comprehensive website, which provides links, calculators and information regarding these entitlements and obligations.  They also have means of contacting them, and if you do speak to somebody, they do not charge for their services.

Here are a few other things to be on the lookout for, to ensure that you have landed on the correct website when seeking Fair Work information:

The Fair Work website is a federal government provided service.  The website will always end in .gov.au.
You are not required to register, and provide business information to access details on the Fair Work website.  While you do have the choice to subscribe to email updates, you do not need to provide ANY information to access the resources that are available.
Fair Work does not endorse any organisation for the provision of advice regarding Fair Work information.  Any business that tells you that they have been "endorsed and accredited by Fair Work" is being deceptive.  Government Agencies are business neutral - they do not, and cannot endorse private enterprises for the provision of information.
They will not require you to arrange an appointment to have somebody visit you on site to assess your query.
Fair Work will not redirect your call or query to external phone numbers or websites.  They will however, provide you with the references to your query within the Fair Work website - always look for the .gov.au extension.

Caveat Emptor (buyer beware).  Take note of the above, and if you are ever using any search engine to search for information regarding employees, entitlements, wages, conditions or the such, ensure that the website you click through is the correct one.

The stories we are hearing of businesses being duped by these impostors are heartbreaking - being coerced and forced to sign up to long term "support" contracts, at exorbitant costs, with substandard service and information being provided, with no cooling off or contract termination clauses.

If you think you may have fallen victim to one of these businesses, then contact the ACCC as they are keen to hear more about these businesses and their deceptive practices.